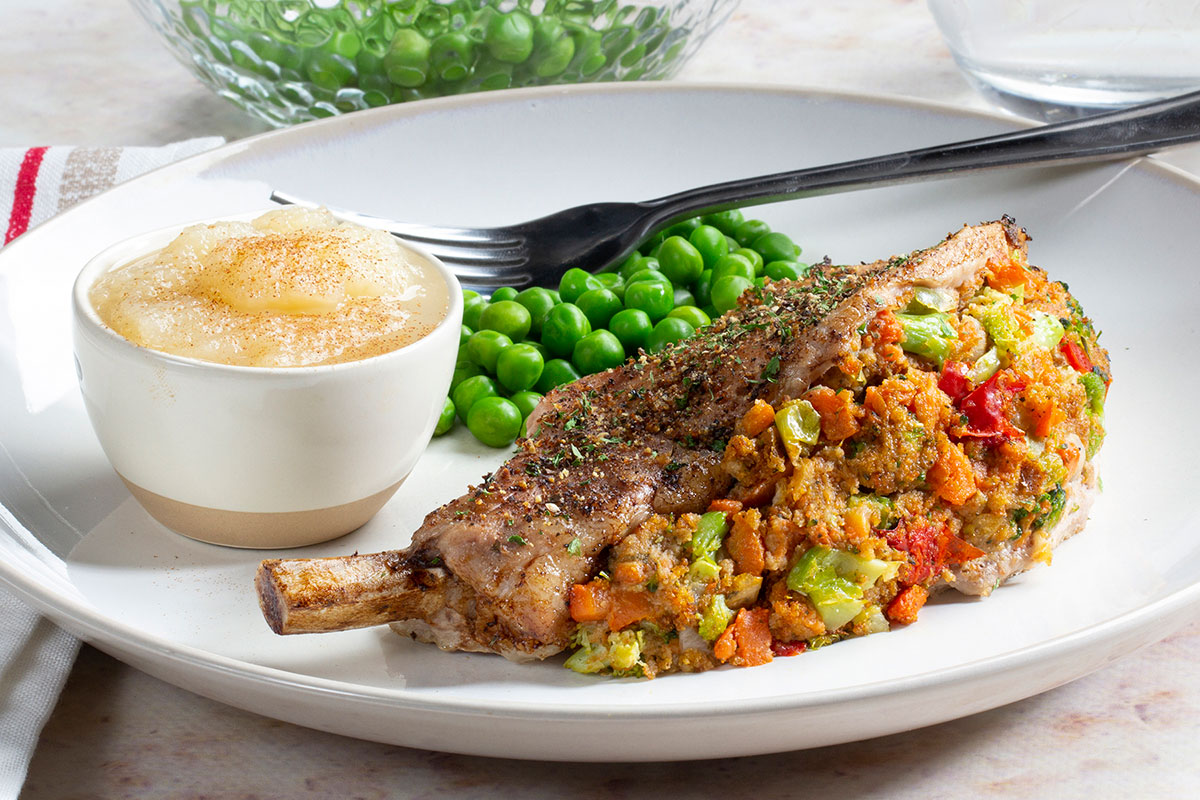 OVERVIEW:

Prep: 15 min.

4 servings
Ingredients
1 cup Birdseye™ frozen broccoli, thawed and chopped
1 cup Stokely's™ canned sliced carrots, drained and chopped
1/2 cup Clover Valley™ onions & mixed peppers, thawed and chopped
2 slices Sara Lee™ whole wheat bread
1-1/2 teaspoons Clover Valley™ garlic powder
1 teaspoon Clover Valley™ Italian seasoning
4 (10-ounce) Feed the Party™ frozen bone-in pork chops, thawed and trimmed
1/2 teaspoon Clover Valley™ onion powder
1/4 teaspoon Clover Valley™ salt
Coarse black pepper for sprinkling
Directions
Preheat oven to 350 degrees F. Coat a rimmed baking sheet with cooking spray. In a food processor with a cutting blade or with a knife, process bread into fresh bread crumbs.
In a medium bowl, combine broccoli, carrots, onions and peppers, bread crumbs, garlic powder, and Italian seasoning; mix well.
On a flat surface, cut a slit in each pork chop, cutting horizontally 3/4 of the way through, creating a deep pocket (see photo). Stuff each pocket in the chops with an equal amount of the vegetable mixture, packing the filling in tightly. Place on baking sheet. Sprinkle each pork chop evenly with onion powder, salt, and black pepper.
Roast 25 to 30 minutes or until pork is no longer pink in center and the stuffing is heated through.