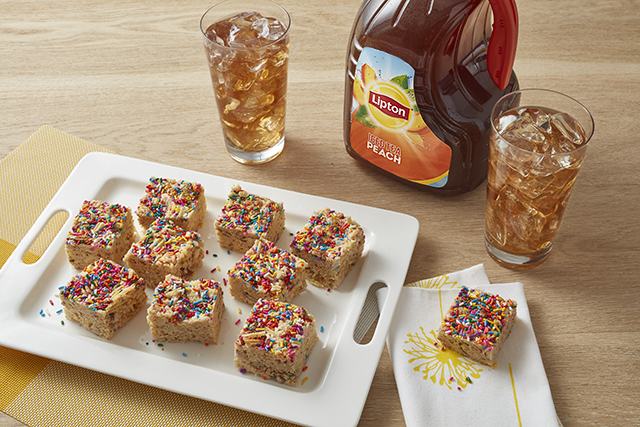 OVERVIEW:

Prep: 15 min.

Makes 1 8x8 baking dish
For the marshmallow mix
1-1/2 cups ridged potato chips
1/2 cup pecan halves
1-1/2 cups puffed rice cereal
4 Tbsp. butter
2 tsp. cinnamon sugar
4 cups mini marshmallows
To finish
Cooking spray
1/2 cup rainbow sprinkles, plus more if needed
Make the mix
Add the chips to a food processor and blitz just 2-3 times.
Add the pecans and blitz just once or twice, then add the cereal and blitz just a couple more times as well.
The blend should not be sand, but nice peaks and valleys of chips and pecans with a few cereal pieces untouched by the blitz.
In a large pot on medium heat melt the butter and stir in the cinnamon sugar.
Add the marshmallows and stir continuously until completely melted and smooth.
Remove the pot from the heat and add the potato chips, cereal, and pecans.
Mix the bites
Coat the bottom and sides of an 8x8" baking dish with cooking spray.
Press the marshmallow mixture into the dish and flatten as much as possible.
Immediately sprinkle over rainbow sprinkles to completely cover the top and gently press down.
Rest to cool and cut into whatever size bites you like!
Recipe courtesy Sunny Anderson, 2019