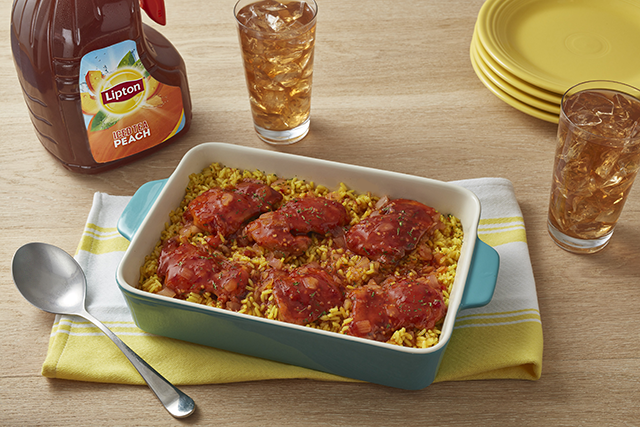 OVERVIEW:

Prep: 30 min. | Cook: 15 min.

4-6
For the chicken
2 Tbsp. olive oil
1/2 cup chopped sweet onion
8 boneless, skinless chicken thighs
Kosher salt and black pepper
1 cup sweet and spicy sauce
For the rice
1 cup uncooked yellow rice
1 1/2 cups chicken stock
1/2 cup sweet and spicy sauce
1 clove garlic, grated on a rasp
2 sprigs fresh thyme
Kosher salt and black pepper
1/4 cup chopped fresh parsley
Make the chicken
In a large pan on medium high heat add the oil and when it begins to swirl, add the chicken and sear until golden brown then flip.
Add the onions and sauce.
Cover and lower to a simmer.
Cook until the chicken is cooked through, about 10-15 minutes.
Make the rice and serve
In a rice cooker add the rice, chicken stock, sauce, garlic, thyme, a pinch of salt and a few grinds of black pepper.
Turn on and let cook as directed.
When done, add the parsley and fluff. Serve with chicken over the top.
Recipe courtesy Sunny Anderson, 2019