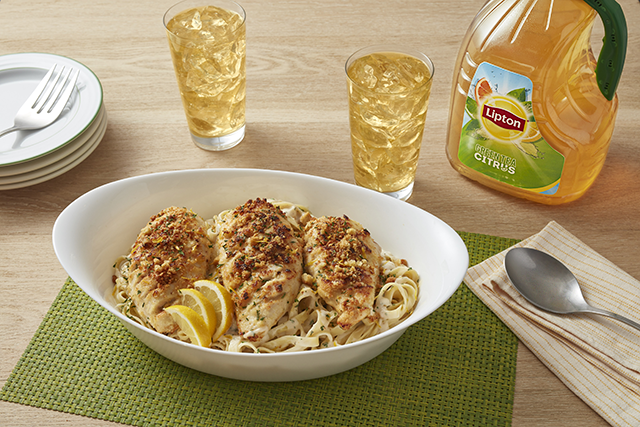 OVERVIEW:

Prep: 40 min. | Cook: 35 min.
For the chicken
Cooking spray
3 chicken breasts
6 tablespoons garlic butter, melted zest of 1 lemon
1 cup grated parmesan (like sand)
1 cup crushed stuffing cubes
For the pasta
1 cup jarred alfredo sauce
1/4 cup chopped fresh Italian parsley
Black pepper
1 pound fettuccine, cooked al dente
Lemon wedges, for spritzing
Prepare the breasts
Preheat oven to 350°F.
Spray a baking sheet with cooking spray or line with non-stick aluminum foil.
Pat the chicken breasts dry.
On the smooth side of each breast, score them with deep slices along the length about 3/4" apart. Be careful on the tapered ends to not cut all the way through, keeping the breast intact.
Place chicken breasts in a bowl and pour butter over the top, turning to coat. In a large bowl stir the zest, cheese, and crushed stuffing cubes.
Press the breasts into this mixture, making sure to coat the insides of the scores along the length of each breast.
Place sliced side up on the prepared baking sheet.
Spray the tops of each with cooking spray.
Bake until golden brown on top and cooked through, about 30-35 minutes.
Make pasta and serve
In a large pot on medium heat add the alfredo sauce, parsley, and a few grinds of pepper.
Heat until it simmers and then add the pasta.
Stir until warm.
Serve beneath chicken with a sprit of lemon.
Recipe courtesy Sunny Anderson, 2019