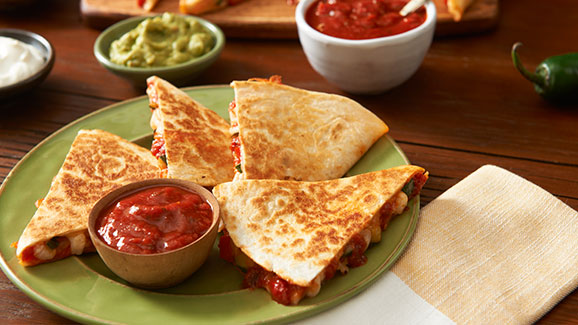 OVERVIEW:

Prep: 15 min. | Cook: 20 min.
Ingredients
2 Tbsp. Clover Valley® Olive Oil
1 small onion, diced
1 small red bell pepper, diced
1 small zucchini, diced
1 jar (1 lb., 8 oz.) Ragu® Spicy Italian Sauce
4 (10") burrito size flour tortillas
1 cup Clover Valley® Shredded Mozzarella or Monterey Jack Cheese, divided
Directions
Heat 1 tablespoon olive oil in 12" nonstick skillet over medium-high heat.
Cook onion, pepper and zucchini, stirring occasionally, 4 minutes or until tender.
Reduce heat to medium and stir in 1-1/2 cups sauce, simmer, stirring occasionally, 5 minutes or until sauce is thickened.
Evenly spread sauce mixture on tortillas, leaving a 1" border. Sprinkle evenly with cheese and fold in half; set aside. Clean skillet.
Heat remaining 1 tablespoon olive oil in same skillet over medium heat and cook quesadillas, two at a time, turning once, 4 minutes or until golden brown and cheese is melted.
Cut quesadillas into wedges and serve with remaining sauce, heated.
Chef's tip
Quesadillas can also be baked. Place folded filled tortillas on baking sheet and bake in preheated 425°F oven for 5 minutes or until cheese is melted. Cut and serve as above.