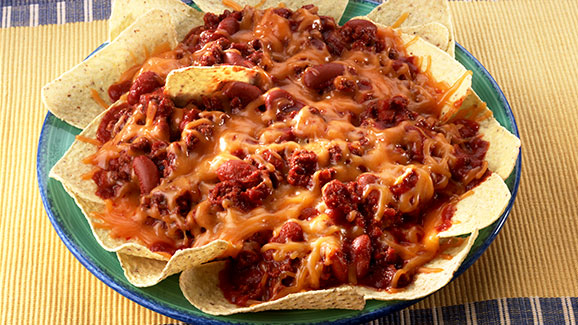 OVERVIEW:

Prep: 10 min. | Cook: 25 min.
Ingredients
1-1/2 lbs. extra-lean ground beef
1 medium onion, chopped
2 Tbsp. Clover Valley® Chili Powder
1 (19 oz.) can low-sodium red kidney beans, rinsed and drained
1 jar (1 lb., 8 oz.) Ragu® Sauce
8 oz. plain tortilla chips
1 cup Clover Valley® Shredded Low Fat Cheddar Cheese
Directions
Brown ground beef with onion and chili powder in 12-inch skillet over medium-high heat, stirring occasionally.
Stir in beans and sauce.
Bring to a boil over high heat. Reduce heat to low and simmer covered, stirring occasionally, 20 minutes.
Spoon over tortilla chips, then top with cheese.
Chef's tip
For Chili Tacos, serve chili mixture into taco shells, then sprinkle with cheese. Garnish with shredded lettuce and sour cream.