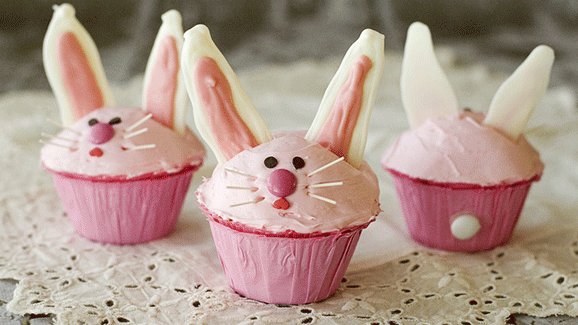 OVERVIEW:

Prep: 40 min.
Ingredients
24 Regular-Size Pink Paper Baking Cups
1 Box Betty Crocker Super Moist Strawberry Cake Mix (water, vegatable oil, and eggs called for on cake mix box)
2 Bags (12 oz) White Candy Melts
2 Bags (12 oz) Pink Candy Melts
24 White Candy-Coated Chocolate Candies
3 Containers (12 oz) Betty Crocker Whipped Strawberry Frosting
48 Miniature Semisweet Chocolate Chips
24 Pink Candy-Coated Chocolate Candies
24 Miniature Red Candy Hearts
24 Uncooked Somen Noodles, each broken Into 6 pieces
Directions
Heat oven to 350 degrees F (325 degrees F for dark or nonstick pans). Place pink paper baking cup in each of 24 regular-size muffin cups.
Make and bake cake mix as directed on box for cupcakes, using water, oil, and eggs. Cool 10 minutes; remove from pans to cooling racks. Cool completely, about 30 minutes.
Meanwhile, line cookie sheet with cooking parchment paper. Melt white candy melts as directed on package; pour melted candy into squirt bottle. Draw 48 bunny ears on parchment paper with melted white candy. Melt pink candy melts; pour into another squirt bottle. Fill in middle of white ears with pink candy. Refrigerate 30 minutes or until firm.
Use drop of melted white candy to attach 1 white candy-coated chocolate candy to paper baking cup for bunny tail; hold 30 seconds or until set. Repeat with remaining white candy-coated chocolate candies.
Spread 3 tablespoons frosting on each cupcake top. On front of each cupcake (side opposite the bunny tail), add 2 chocolate chips for eyes, 1 pink candy-coated chocolate candy for nose and 1 red candy heart, turned upside down, for mouth. Insert 3 noodle pieces on each side of nose for whiskers. Gently press 2 ears into top of each cupcake.