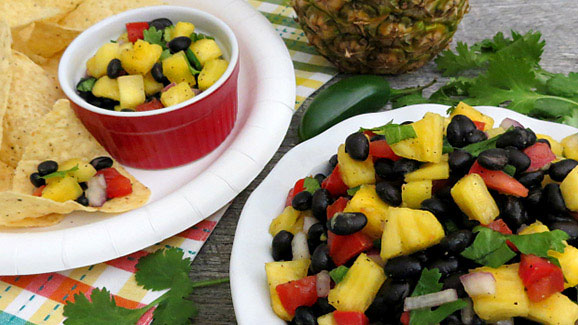 OVERVIEW:

Prep: 10 min. | Cook: 15 min.
Ingredients
1 (14.5 oz.) can black beans, rinsed and drained
1-1/2 cups fresh pineapple, diced
1/4 cup red onion, finely diced
1 Roma tomato, seeded and diced
1 medium jalapeno, seeds removed and minced
3 Tbsp. fresh cilantro, copped
1 Tbsp. fresh lime juice (approx. 1/2 of a lime)
1 Tbsp. Clover Valley® Olive Oil
1/4 tsp. Clover Valley® Black Pepper
1/4 tsp. Clover Valley® Salt
Directions
Add all the ingredients to a large bowl and mix well.
Allow to chill 15 minutes before serving, stirring every 5 to 10 minutes.
Taste and adjust the seasoning.
Serve with tortilla chips.
Chef's tip
If eating with tortilla chips, try with a chip before adding additional salt. Also try over grilled fish or chicken or as a topping for tacos and burritos.