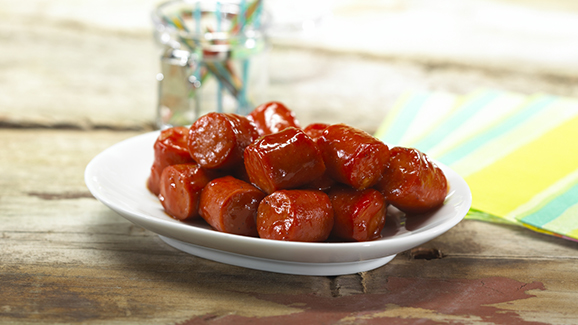 OVERVIEW:

Prep: 10 min. | Cook: 20 min.
Ingredients
3/4 cup Heinz® Tomato Ketchup
1/4 cup orange marmalade
1 Tbsp. Heinz® Apple Cider Vinegar
1/2 tsp. dry mustard
1/2 tsp. chili powder
1/2 tsp. hot pepper sauce
1/4 tsp. red pepper
1/4 tsp. ginger
1 lb. good-quality frankfurters cut into 1-inch pieces
Directions
In a medium bowl, combine all ingredients except frankfurters.
Place ketchup mixture in a medium saucepan and bring to a boil.
Add frankfurter pieces to ketchup mixture; cover; simmer 15 minutes or until frankfurters are heated, stirring occasionally.
Serve in chafing dish with food picks.