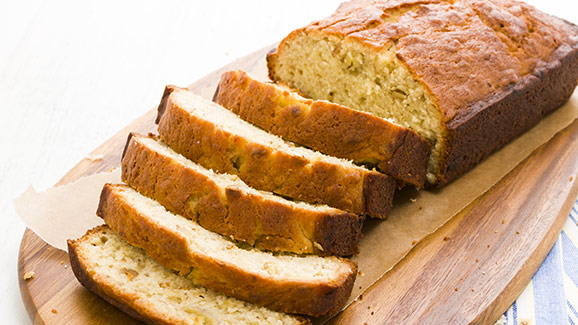 OVERVIEW:

Prep: 15 min. | Cook: 60 min.
Ingredients
1/2 cup Mott's® Applesauce
2-1/2 cups all-purpose flour
2 tsp. baking powder
2 tsp. baking soda
1/2 tsp. ground allspice
4 (2 cups) ripe medium bananas, mashed
1 cup sugar
3 egg whites
2 Tbsp. vegetable oil
1 tsp. vanilla extract
Directions
Preheat oven to 375°F. Spray 8-1/2" x 4-1/2" loaf pan with non-stick cooking spray.
In large bowl, combine flour, baking powder, baking soda and allspice.
In medium bowl, whisk together bananas, sugar, applesauce, egg whites, oil and vanilla.
Bake 60 minutes or until toothpick inserted into center comes out clean.
Cool in pan 10 minutes. Invert onto wire rack.
Turn right side up. Cool completely.