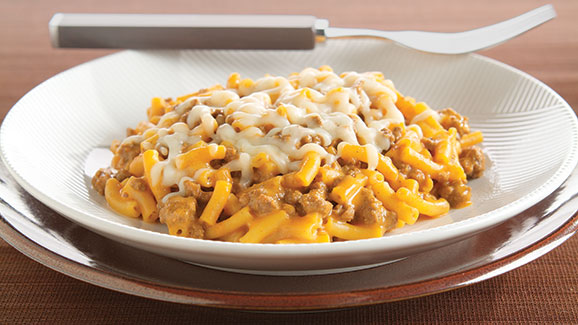 OVERVIEW:

Prep: 5 min. | Cook: 25 min.
Ingredients
1 lb. ground beef
1-1/2 cups water
1 pkg. (7.25 oz.) KRAFT Macaroni & Cheese Dinner
1/4 cup milk
1/4 cup Clover Valley® margarine
1/2 cup CLASSICO FAMILY FAVORITES Traditional Pasta Sauce
1/2 cup KRAFT Shredded Mozzarella Cheese
Directions
Brown meat in large skillet on medium-high heat; drain.
Add water and macaroni; stir.
Bring to boil; cover.
Simmer on medium heat 7 to 8 min. or until macaroni is tender.
Stir in Cheese Sauce Mix, milk, margarine and pasta sauce.
Top with mozzarella cheese; cover.
Cook on low heat 1 to 2 min. or until cheese is melted.
Chef's tip
Healthy Living:
Save 150 calories, 18g fat and 4g saturated fat per serving by preparing Dinner as directed on package, using the Light Prep directions and using both extra-lean ground beef and KRAFT 2% Milk Shredded Mozzarella Cheese.
Serving Suggestion:
Serve with a tossed green salad and fresh fruit for dessert.