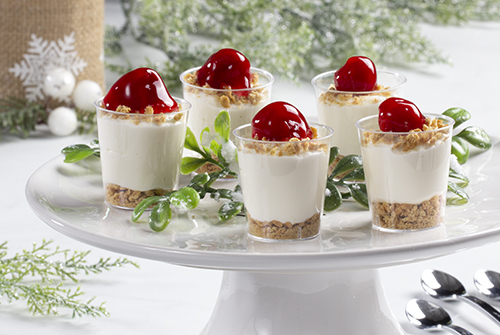 OVERVIEW:

Prep: 10 min.

27 servings
Ingredients
1 (8-ounce) package Clover Valley™ cream cheese, softened
1/4 cup Clover Valley™ confectioners' sugar
1 (6-ounce) container Land o' Lakes™ vanilla yogurt
1 teaspoon Clover Valley™ vanilla extract
1 cup Cool Whip™ frozen whipped topping, thawed
3-1/2 sheets Clover Valley™ honey graham crackers, finely crushed
27 (1-ounce) clear plastic mini party cups
1/2 cup Clover Valley™ cherry pie filling (27 cherries with sauce)
Directions
In a large bowl with an electric mixer, beat cream cheese, sugar, yogurt, and vanilla until smooth. Fold in whipped topping until thoroughly combined.
Spoon 1 teaspoon of graham cracker crumbs into each mini party cup. Using a piping bag or a spoon, fill cups with cream cheese mixture. Lightly sprinkle cream cheese mixture with remaining graham cracker crumbs and top each with a cherry.
Refrigerate at least 30 minutes or until ready to serve.