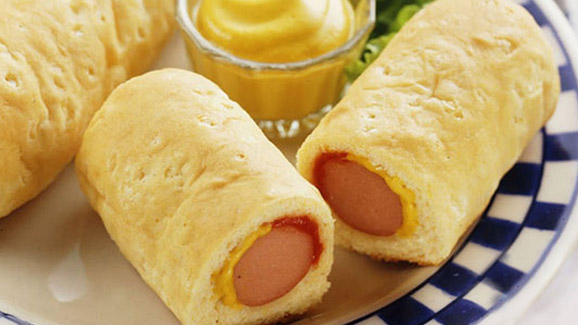 OVERVIEW:

Prep: 12 min. | Cook: 18 min.
Ingredients
1 (16.3 oz.) can Grands!® Refrigerated Biscuits
8 tsp. Clover Valley® Ketchup
8 tsp. Clover Valley® Mustard
8 hot dogs
Directions
Heat oven to 350°F.
Grease cookie sheet.
Separate dough into 8 biscuits.
Press or roll each to form 6-1/2" oval.
Spread each biscuit with 1 teaspoon ketchup and 1 teaspoon mustard.
Place 1 hot dog in center of each biscuit.
Roll dough around hot dog; seal ends and edges well.
Place seam side down on cookie sheet.
Bake at 350°F for 15 to 18 minutes or until golden brown.