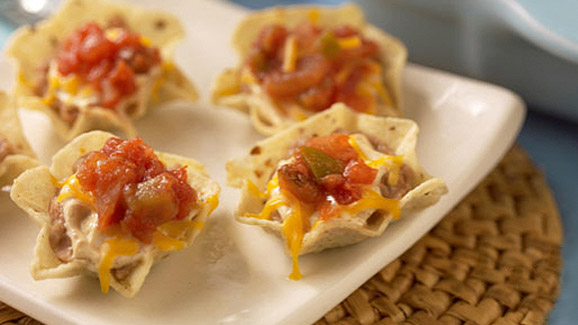 OVERVIEW:

Prep: 30 min. | Cook: 5 min.
Ingredients
1 bag TOSTITOS® SCOOPS!® Tortilla Chips
1 frozen beef or chicken fajita kit, prepared according to the directions on the fajita package or prepare your own chopped meat and veggies (1/4 cup chopped beef or chicken and 1-1/2 cups of cooked vegetables
2 Tbsp. canned green chilies, diced
5 Tbsp. TOSTITOS® Medium Queso
1 jar TOSTITOS® Medium Salsa to garnish (about 1/4 tsp. per tortilla chip)
Directions
Dice the fajita beef or chicken and sear in a nonstick sauté pan over medium heat until warmed through, and place in a heat-proof mixing bowl.
Sauté fajita vegetables over high heat in the same nonstick pan until warm (about 2 minutes).
Add vegetables to meat in mixing bowl. Add green chilies and TOSTITOS® Medium Queso to mixture and evenly combine all ingredients.
Fill each TOSTITOS® SCOOPS!® Tortilla Chip with the warm fajita mixture and top each chip with 1/4 tsp. TOSTITOS® Medium Salsa.
Serve Immediately.