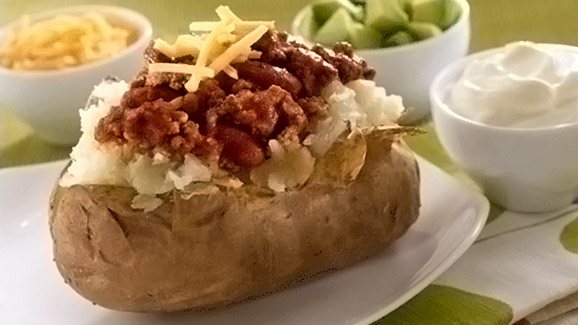 OVERVIEW:

Prep: 15 min. | Cook: 20 min.
Ingredients
1 lb. ground beef
1 small onion, chopped
2 cups Ragú® Old World Style® Pasta Sauce
4 large potatoes, baked and split
1-1/2 Tbsp. chili powder
1 (19 oz.) can red kidney beans, rinsed and drained
Directions
Brown ground beef with onion in 12-inch skillet; drain, if desired.
Stir in chili powder and cook for 30 seconds.
Stir in beans and pasta sauce.
Bring to a boil over high heat.
Reduce heat to low and simmer, stirring occasionally, for 5 minutes or until heated through.
Evenly top potatoes with ground beef mixture.
Garnish, if desired, with diced avocado, sour cream and shredded cheddar cheese.