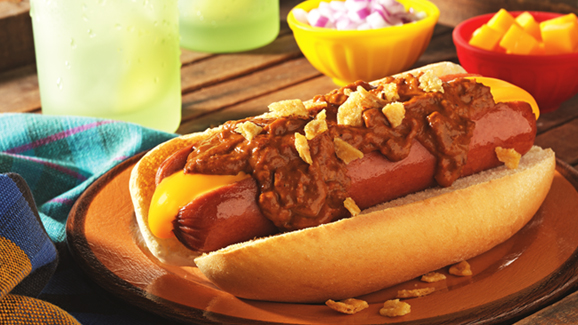 OVERVIEW:

Prep: 25 min. | Cook: 5 min.
Ingredients
8 bun-length beef franks, heated, partially split lengthwise
8 Clover Valley® Hot Dog Rolls
1 (8 oz.) pkg. VELVEETA®, cut into cubes
1 cup crushed original corn chips
1 (15 oz.) can Wolf® Brand Chili No Beans, warmed
Finely chopped red onion, optional
Directions
Preheat broiler.
Place franks in rolls.
Place VELVEETA® cubes in center of franks; top each with 1 tablespoon corn chips.
Place in baking pan.
Broil 3 to 4 minutes or until VELVEETA® is melted and corn chips are toasted lightly. Remove from oven.
Top each sandwich with about 1/4 cup chili and 1 more tablespoon corn chips.
Sprinkle with onion, if desired.
©ConAgra Foods, Inc. All Rights Reserved.
VELVEETA® is a registered trademark of KraftFoods, Inc.