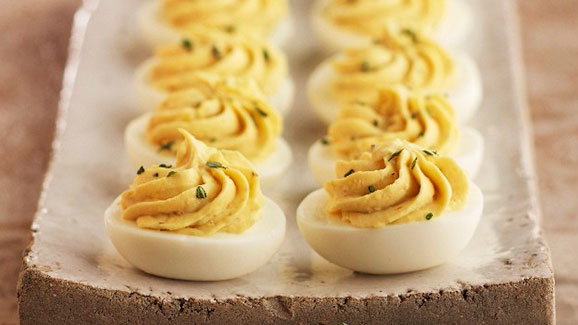 OVERVIEW:

Prep: 10 min.
Ingredients
8 hard-cooked eggs, cut lengthwise in half
1/4 cup MIRACLE WHIP Dressing
1/4 cup PHILADELPHIA Cream Cheese Spread
1 Tbsp. sweet pickle relish
1/2 tsp. hot pepper sauce
1/4 tsp. Cajun seasoning
1/4 tsp. chopped fresh thyme
Directions
Beat egg yolks and next five ingredients in small bowl with mixer until blended.
Fill whites with yolk mixture; sprinkle with thyme.
Chef's tip
How to Hard-Cook Eggs
Place eggs in single layer in saucepan; add enough water to completely cover eggs by at least 1 inch. Bring water to boil; cover. Remove saucepan from heat; let stand 15 minutes. Drain eggs; immediately place in bowl of ice water. Let stand until completely cooled, changing water if necessary. Perfectly hard-cooked eggs will have a firm yellow center with no greenish tinge. Hard-cooked eggs in their shells can be refrigerated for up to one week.