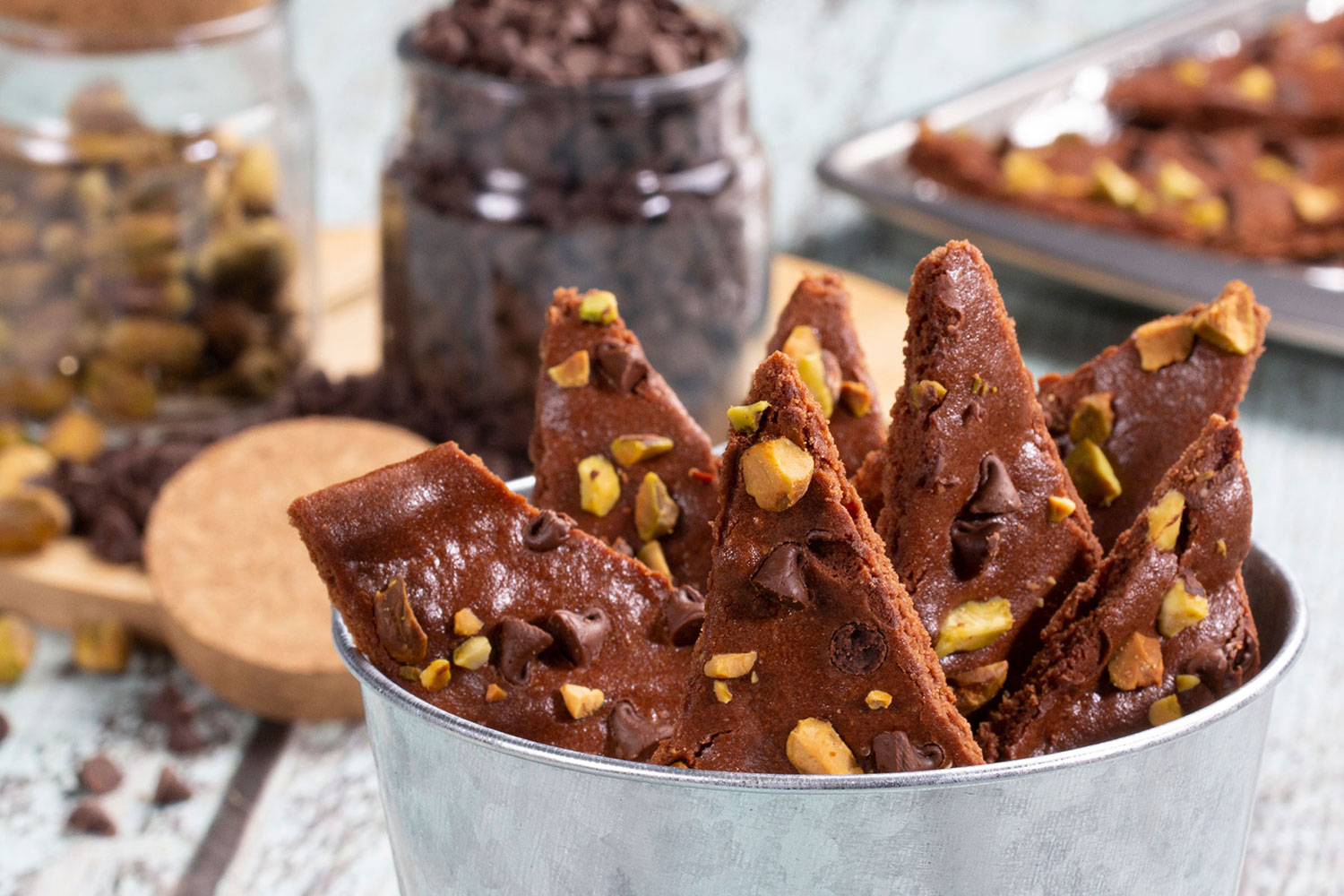 OVERVIEW:

Prep: 10 min.

15 servings
Ingredients
2 Clover Valley™ egg whites
1/3 cup sugar
2 tablespoons cocoa powder
1/4 cup Clover Valley™ canola oil
1/2 teaspoon Clover Valley™ vanilla extract
1 tablespoon Clover Valley™ powered coffee creamer
1/4 teaspoon Clover Valley™ baking powder
1/4 teaspoon Clover Valley™ salt
1/2 cup Clover Valley™ all-purpose flour
2 tablespoons Good & Smart™ shelled pistachio nuts, finely chopped
2 tablespoons Clover Valley™ mini chocolate chips
Directions
Preheat oven to 325 degrees F. Line a 10- x 15-inch rimmed baking sheet with aluminum foil.
In a large bowl with a whisk, beat egg whites until foamy. Gradually whisk in sugar, then cocoa powder, oil, and vanilla until smooth. Whisk in the powdered coffee creamer, baking powder, and salt. Gradually add flour and continue whisking until smooth.
Pour batter onto prepared baking sheet and spread as thinly as possible using a spreader or back of a spoon. Evenly sprinkle with nuts and chocolate chips.
Bake on center rack 20 minutes; remove from oven. With a pizza cutter or knife, cut into 15 pieces without separating. Return to oven for 5 minutes.
Remove from oven and let cool completely. Break apart and serve, or store in an airtight container until ready to serve.