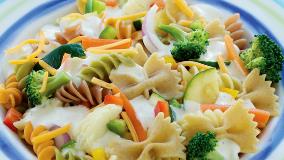 OVERVIEW:

Prep: 15 min.
Ingredients
1/2 cup (4 oz.) multicolored corkscrew pasta
1/2 cup (4 oz.) whole-wheat bowtie pasta
1/2 cup frozen mixed vegetables, thawed
1/2 cup Hidden Valley® Original Ranch® Dressing
1/2 cup shredded cheddar cheese
1 small red bell pepper, finely chopped
Directions
Cook pasta according to package directions.
Drain and rinse under cold water.
In a large bowl, add the pasta, vegetables, pepper, and cheese, then toss with enough dressing to evenly coat.
Chill covered for at least an hour.
Serve with extra dressing on the side.