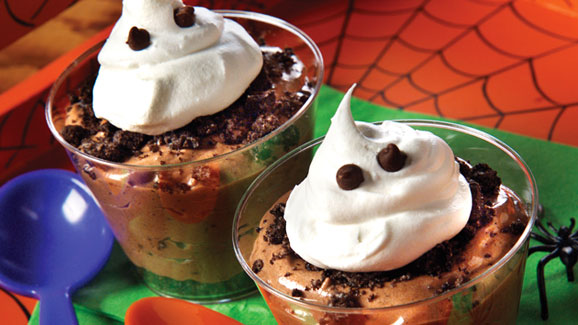 OVERVIEW:

Prep: 15 min.
Ingredients
2 pkg. (3.9 oz. each) JELL-O Chocolate Instant Pudding
3-1/4 cups cold milk
1 (8 oz.) tub COOL WHIP Whipped Topping, thawed, divided
20 OREO Cookies, crushed (about 1-3/4 cups), divided
30 miniature semisweet chocolate chips
Directions
Beat pudding mixes and milk in large bowl with whisk for 2 minutes. Stir in half each of the COOL WHIP and cookie crumbs.
Spoon 1 tablespoon of the remaining crumbs into each of 15 (6 oz.) plastic cups. Cover with layers of pudding mixture and remaining crumbs.
Drop remaining COOL WHIP by spoonfuls onto desserts to resemble ghosts. Add chocolate chips for the eyes.
Chef's tip
Instead of spooning remaining COOL WHIP onto the desserts, use a resealable plastic bag to make the ghosts.
Fill bag with remaining COOL WHIP; seal bag. Use scissors to diagonally cut off corner from bottom of bag. Squeeze COOL WHIP from bag to resemble the ghosts.