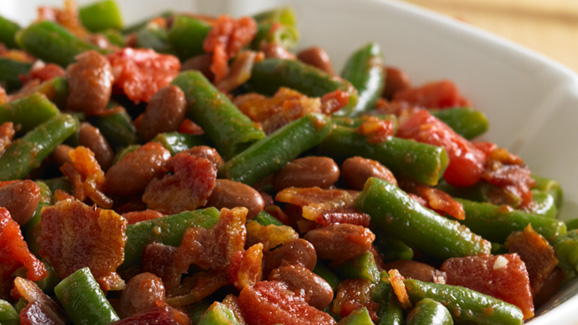 OVERVIEW:

Prep: 20 min.
Ingredients
4 slices bacon
1 (16 oz.) bag frozen cut green beans
1 (15 oz.) can Ranch Style® Pinto Beans, drained, rinsed
1 (14.5 oz) can Hunt's® Diced Tomatoes, drained
1 Tbsp. fresh lemon juice
2 tsp. minced garlic
1/4 tsp. salt
1/8 tsp. ground black pepper
Directions
Cook bacon in large skillet over medium-high heat until crisp. Remove bacon; drain on paper towels.
Carefully add frozen green beans, pinto beans and drained tomatoes to bacon drippings.
Cook 3 to 5 minutes or until green beans are hot, stirring occasionally.
Add lemon juice, garlic, salt and pepper to bean mixture; cook and stir 1 to 2 minutes or until garlic is fragrant.
Crumble cooked bacon over bean mixture.
Serve immediately.
Recipe concept developed by The Culinary Institute of America.
©ConAgra Foods, Inc. All Rights Reserved.