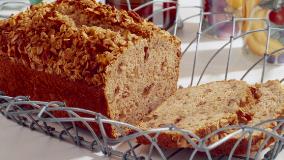 OVERVIEW:

Prep: 15 min. | Cook: 50 min.
Ingredients
1 cup Quaker® Oats (quick or old-fashioned, uncooked)
1/2 cup chopped pecans
3 Tbsp. stick margarine or butter, melted
2 Tbsp. firmly packed brown sugar
1 (14 oz.) pkg. banana bread quick bread mix
1 cup water
1/2 cup mashed ripe banana (about 1 large)
2 eggs, lightly beaten
3 Tbsp. canola oil
Directions
Heat oven to 375°F.
Grease and flour bottom only of a 9" x 5" loaf pan.
In small bowl, combine oats, pecans, margarine and brown sugar; mix well. Reserve 1/2 cup mixture, set aside.
In large bowl, combine remaining oat mixture, quick bread mix, water, banana, eggs and oil.
Mix until dry ingredients are moistened. Pour into pan.
Sprinkle top of loaf with reserved oat mixture.
Bake 50 to 55 minutes or until wooden pick inserted in center of loaf comes out clean.
Cool 10 minutes in pan; remove to wire rack.
Cool completely.