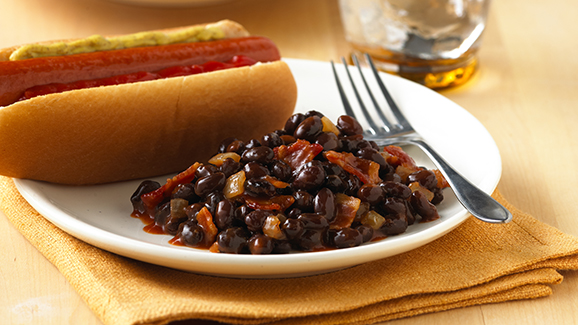 OVERVIEW:

Prep: 15 min. | Cook: 10 min.
Ingredients
1 Tbsp. Pure Wesson® Vegetable Oil
1/4 cup chopped fully cooked bacon
1/4 cup chopped onion
1 can (15 oz. each) Clover Valley® Black Beans, drained, rinsed
1/4 cup Hunt's® Tomato Ketchup
1/4 cup firmly packed brown sugar
1/4 cup water
1 tsp. Gulden's® Spicy Brown Mustard
Directions
Heat oil in medium saucepan over medium-high heat. Add bacon and onion; cook 3 minutes or until onion is tender, stirring occasionally.
Add all remaining ingredients.
Reduce heat to medium-low, cook 10 minutes more or until flavors blend, stirring occasionally.
©ConAgra Foods, Inc. All Rights Reserved.