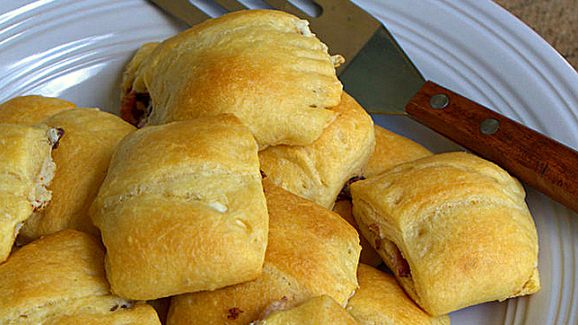 OVERVIEW:

Prep: 10 minutes | Total: 20 minutes
Ingredients
4 slices bacon (hickory smoked)
1 can crescent roll dough
4 oz. cream cheese, softened
1/2 tsp. garlic and herb seasoning
Pepper to taste
Directions
Heat oven to 375°F. Slice bacon in 1/2-inch slices, slowly crisp over medium-low heat until super crispy. In a bowl, place the cream cheese and seasoning; mix to combine. Drain the bacon fat and add the bacon to the cream cheese mixture. Mix to combine.
Lay out the crescent roll dough into two long rectangles. Pinch the seams close and evenly place half the cream cheese mixture down the center of each dough. Wrap both sides of the dough around the mixture.
Pinch the dough at the ends and seal it as well as possible on all seams. Cut each log into 8 equal pieces. Lay out the pieces about an inch apart and, using a fork, pinch the open seams closed.
Bake for 9 minutes or until golden brown on top. Let cool slightly, serve and enjoy!