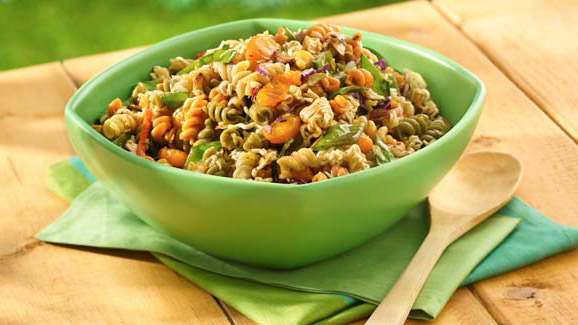 OVERVIEW:

Prep: 25 min.
Ingredients
1 box Betty Crocker® Suddenly Salad® classic pasta salad mix
1 (3 oz.) pkg. Oriental-flavor ramen noodle soup mix
3 Tbsp. sugar
3 Tbsp. vegetable oil
2 Tbsp. white vinegar
2 Tbsp. water
1 Tbsp. soy sauce
3 cups coleslaw mix (shredded cabbage and carrots)
1 cup fresh snow pea pods, strings removed, cut diagonally into 1/2-inch pieces
1/2 cup sliced almonds, toasted
1 (15 oz.) can mandarin orange segments, drained
Directions
Empty contents of pasta pouch (from salad mix) into 3-quart saucepan two-thirds full of boiling water.
Gently boil uncovered for 12 minutes, stirring occasionally.
Drain pasta; rinse with cold water. Shake to drain well.
Mix contents of seasoning pouches in large bowl (from salad and soup mixes), the sugar, oil, vinegar, water and soy sauce.
Stir in pasta, coleslaw mix, pea pods, almonds and oranges.
Coarsely crush dry noodles (from soup mix); stir into pasta mixture just before serving. Refrigerate leftovers.