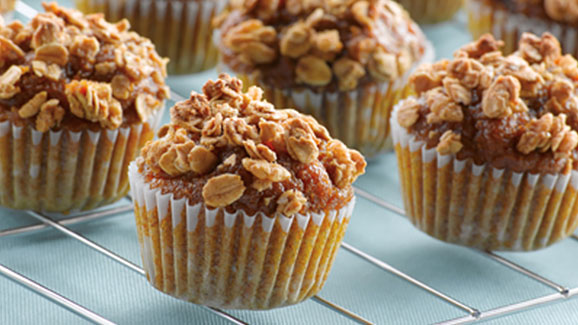 OVERVIEW:

Prep: 10 min. | Cook: 15 min.
Ingredients
1 cup whole-wheat or all-purpose flour
1 tsp. pumpkin pie spice
1/2 tsp. baking soda
1/2 tsp. baking powder
1/4 tsp. salt
1 cup packed light brown sugar
1/4 cup vegetable oil
1 (15 oz.) can LIBBY'S® 100% Pure Pumpkin
2 large eggs, slightly beaten
1 cup low-fat granola cereal, crumbled
Directions
PREHEAT oven to 350ºF.
Paper-line or grease mini-muffin pans.
COMBINE flour, pumpkin pie spice, baking soda, baking powder and salt in small bowl.
Beat sugar and oil in medium mixer bowl until blended. Add pumpkin and eggs; beat well.
Gradually stir in flour mixture.
Spoon batter into prepared muffin cups, filling 2/3 full.
Sprinkle each with about a 1/2 teaspoon of crumbled granola.
Press granola lightly into batter.
BAKE for 15 to 20 minutes or until wooden pick inserted into centers comes out clean.
Cool in pans for 10 minutes; remove to wire racks to cool completely.
Store muffins in covered containers or resealable plastic bags.